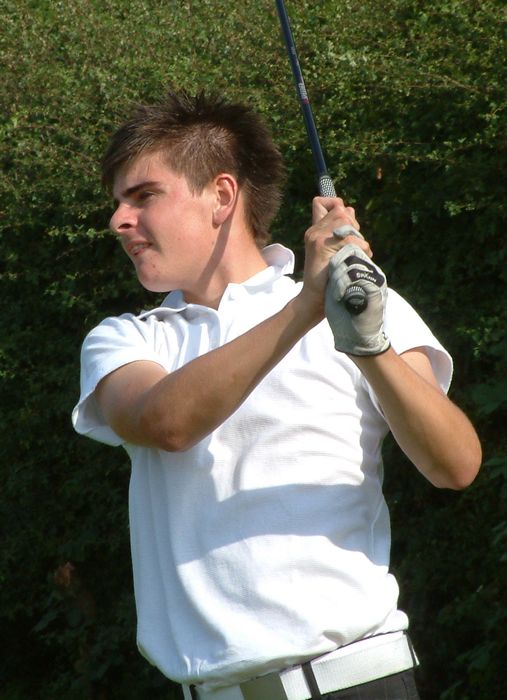 Dale Marson
MARSON MASTERS THE ARDEN
This year saw a record entry of 30 players all qualifying for the tournament by winning their own Club Championship event earlier in the year.
With this event being held towards the end of the season it is always a little touch and go regarding the weather, and this year was particularly tricky with a consistent downpour of rain from start to finish. Thankfully, the Arden course stood up admirably to the conditions with the greens remaining playable throughout and everyone managing to complete their round.
However, considering the conditions and the fact that the Competition Standard Scratch went to 75 (!) a fantastic 2 under par gross 70 was returned from Rugby's Dale Marson which was good enough to take the title of Warwickshire Champion of Champions.
Dale has been involved with County Golf for a long time however, it was his first time of qualifying for this event which made him especially happy with winning this title in his first appearance. Graham Hayes, the County Union President presented the prizes where Dale thanked those present for playing and also the Forest of Arden for hosting the event.
Rugby Golf Club extends our very best wishes and congratulations to Dale for a job well done.
Warwickshire Boys Champion 2004
Warwickshire Youth Champion 2004
Warwickshire Schools Champion 2003
England Schools International 2005
Warwickshire Team Champions with Adam Gray and Neil Taylor
British College Champions with Neil Taylor
Represented Warwickshire Under 16's and Under 18's First Team 2004
Course Record Holder at Sutton Coldfield Golf Club - Record Score 65 (7 under par)

Lauren Taylor
Lauren Taylor
above joined Rugby Golf Club as a Junior member in February 2004, aged 9. Below are her major achievements. In 2014 she was awarded life membership at Rugby Golf Club in recognition of her success.
2013 Winner LETAS Sweden
2013 Winner Dutch Junior Open
2013 Winner Astor Salva
2013 Winner Big 12 Championship USA
2013 Represent England European Ladies
2012 Winner Dutch Junior Open
2012 Winner British College Open Championships and Order of Merit
2011 BBC Young Sports Personality of the year
2011 Winner British Ladies Am Open
2011 Junior Solhiem Cup (Europe)
2011 Silver in European Girls Championship
2011 Winner Ian Poulter Int'l Invite
2011 Runner up Daily Telegraph Final
2011 Winner Dutch Junior Open
2011 Winning England Team Home Int'l
2010 Winning England Team Home Int'l
2010 Scottish Ladies Open (U18 Champion)
2009 Winning England Team Home Int'l
2009 Winner of Faldo Series qualifier
2008 English Girls U15 Champion
2008 English Ladies Amateur stroke play Champion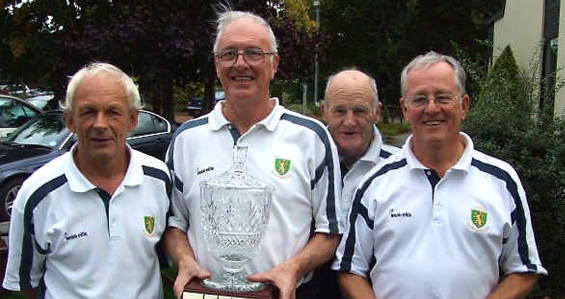 National Seniors Team Winners 2008
In 2008 four of the Seniors from Rugby (D Ramshaw, G Coulthard, J Marshall & M Jessop) won the National Seniors Team title with victories Away at Olton 3-2 Home to Enville 3-1,Away to Hawkstone Park 3-1, Home to Ripon City 3-1and the semi-finals/finals were played at Tewkesbury where they beat West Herts 3-2 in the semi-final and Test Valley the holders in the final 3-1.
Ladies Multiple Club Champion
Mrs. J A Pegler: 1985, 1986, 1987, 1988, 1999, 1992, 1993, 1994, 1995, 1996, 1997, 1998, 1999, 2003, 2004
Mrs A Wakelin: 2000, 2001, 2002, 2008
Miss C Taylor: 2010, 2011, 2012
Mens Multiple Club Champion
Mr J Wilson, 1989,1990,1991,1992,1995,1996,2001,2002,2007,2008,2009
Mr P Godding, 1999, 2000, 2011, 2012, 2013
Ladies Course Record
Lauren Taylor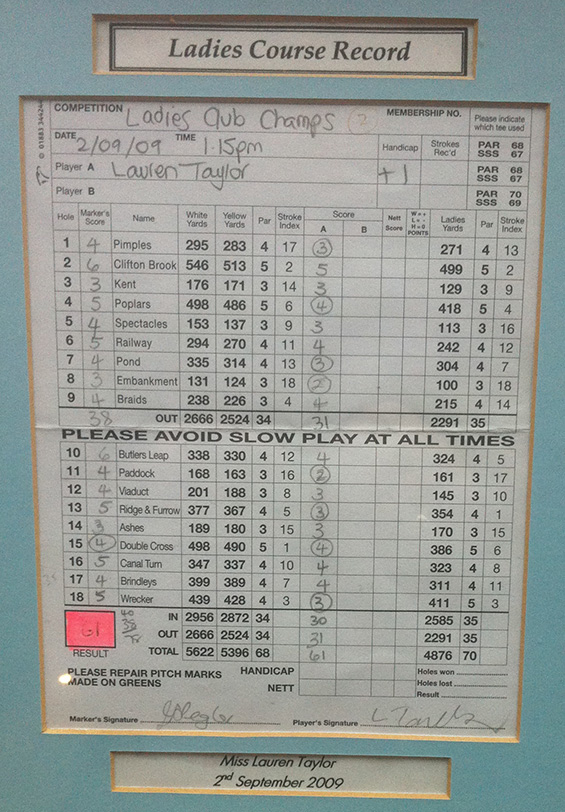 Mens Course Record
Paul Godding