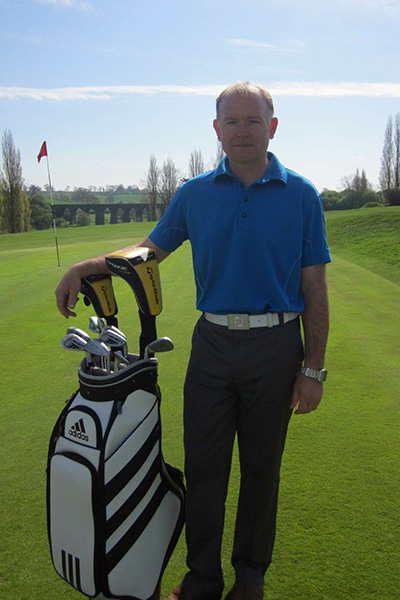 Telephone: 01788 575134 .
E-mail: d.quinn@rugbygolfclub.co.uk
I have been proud to be associated with the club for 8 years now and have enjoyed getting to know the members.
The shop offers a comprehensive range of products at Internet prices and a service second to none. We offer an excellent clothing range and can supply many items personalised with a cresting service available to all customers. We carry at all times the latest equipment to 'try before you buy' a full range of footwear and golf bags and all the sundry items you would expect from an on course outlet.
We have the ability to draw products from all of the suppliers though our network of distributors and our prices are equal to any of our competitors, however with 20 years of experience behind me I can offer you the high standards of service with your purchase, and believe that I will offer you the after sales service you should expect as a customer. The Pro Shop staff is only too happy to advise members and non-members on any query and strive to get you playing your best with the correct equipment.
Club Repairs
My first speciality was refurbishing wooden heads, so I'm showing my age now! But I am proud of my reputation in club repairs, and although technology has moved quickly the basis of understanding how a golf club works or how the golf shaft affects the ball flight hasn't. I have invested in specialist tools to allow me to offer the player a comprehensive range of services from simple re-grips to loft and lay personalisation.
Reshafting a favourite driver can improve accuracy, distance and consistency with a fraction of the cost of a new one.
Our full ranges of services are carried out quickly and efficiently to a standard equal to that of a factory finish.
Tuition at Rugby Golf Club
Our professional David Quinn managed to represent the county for a short time as a junior, but compared to many his amateur career was short as he turned professional at 18. He focused for the first few years on developing his teaching and business skills. However he became county champion in 1991 and had success at a number of county pro-ams after a good ten year break it was nice to return to local events and still be competitive winning a couple of winter events in 2008 / 09.
Golf Lessons
Everyone needs coaching to some degree. For example we cannot see our own swing therefore the coach becomes your eyes to help you understand what you need to change or work on with your technique.
I have a straight forward approach with coaching and do not believe in a particular method but rather that everyone is different and therefore requires personal instruction based on their ability, range of movement etc etc.
I offer group, individual, video analysis and course playing lessons so please give me a call to discuss which style of lesson would be suitable.
Junior lessons
I have worked with local primary and secondary schools for over fifteen years delivering coaching to children during curriculum time and at after school clubs.
This element of my coaching has developed rapidly over the past few years and I am proud that we are one of the few clubs to offer Clubmark an accreditation that is a national recognition for sporting clubs who work closely with children. I have set up school links with a number of local schools and regularly attend to give them a taste of golf with the tri-golf equipment while the club offers taster sessions on the practice area. This is an exciting time with the development of junior golf. Please call the shop if you need any more information either for your child or if your school may be interested in utilising the funding I have to offer.